5 Best Travel Medical Insurances
The 5 Best Travel Medical Insurances in South Africa revealed.
We tested them side by side and verified their travel insurance plans.
This is a complete guide to the best travel medical insurance in South Africa.
In this in-depth guide you'll learn:
What is travel medical insurance?
Is there a difference between travel medical insurance and travel insurance?
What is international travel insurance?
What exactly does travel insurance cover for South Africans?
Are there waiting periods on travel insurance?


So if you're ready to go "all in" with the best travel medical insurance in South Africa, this guide is for you.
Let's dive right in…
5 Best Travel Medical Insurances Summary
What Is Travel Insurance
Travel insurance is security that protects against dangers and financial losses that could happen while travelling. The risks range from small inconveniences, like missing a flight link or having your luggage arrive late, to more serious problems, like getting hurt or getting sick.
Depending on the policy you choose, travel insurance can pay for a wide range of harms and losses, including:
Getting hurt or sick
Travel insurance can help protect you from medical costs that your regular health insurance will not cover while you are travelling. Most health insurance plans do not cover you fully in foreign countries, and some plans, like Medicare, do not cover you at all. Travel insurance works on top of your regular health insurance. If you get sick or hurt before or during your trip, it can help cover some of the costs.
Lost bags
Travel insurance can help pay for costs that come up because your stuff was lost or stolen. This is especially helpful if your bags get lost by a flight, since it can be hard to get them to pay for lost luggage. But in order to get the highest amounts, people must show receipts that show how much their lost bags and their items were worth. And some companies say you have to make the claim within 21 days.
Last-minute cancellations
Travel insurance can help pay for costs that come up if you have to cancel your trip. Most resorts and ship lines will not give you your money back in full if you have to cancel. If you cancel your trip more than two weeks before it starts, most places will charge you a cancellation fee. Many cruise lines will only give you a 25% refund or credit towards another ship. Most companies will not give you any money back if you cancel a trip less than two weeks before it starts. Unexpected things happen, so you want to be ready for anything.
Insurance that goes beyond your credit card
Some credit cards only cover a certain number of cancellations and interruptions per year and have other limits if they cover cancellations and interruptions at all. But few credit cards cover the most expensive travel risks, like hospital bills or emergency evacuations, which can be paid for by travel insurance.
READ more about Health Insurance for Travel in South Africa
What your trip insurance may not pay for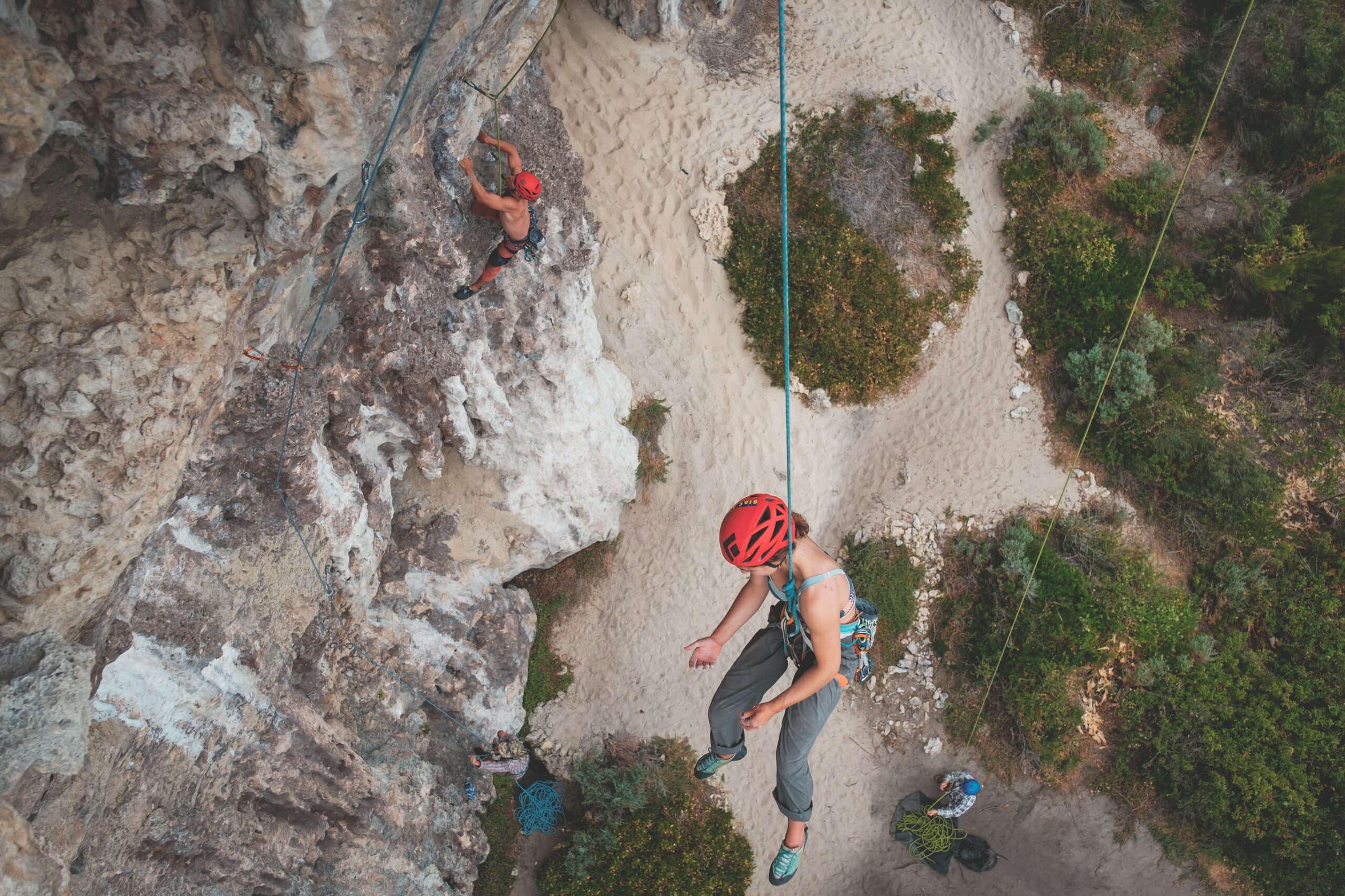 Even though there are many reasons to buy travel insurance, it is important to know that some things may not be covered. If you already have a health problem, look for a plan that lets you get out of paying for it. If you are going to a place where there is political unrest, check to see what your insurance covers if you need to stop your trip because of the problems. Some situations where a tour company goes out of business because of money problems are covered by travel insurance. Find out how that works before you book your trip.
What kind of trip insurance should you buy?
Before you look into travel insurance, you should think about why you might have to stop your trip. Will a weather-related delay drastically change your vacation? Is it possible that your school year will get longer or that you will have to go on a job trip instead? Are there wars happening in the country you are going to?  All of these are good reasons to cancel a trip or ask for insurance. But these things are not covered by all trip insurance.
Insurance you can cancel for any reason:
When you buy this insurance, if you get a hangnail and want to quit, you can. Most of the time, the insurance company does not need a reason. They only need you to cancel within the time limit, which is usually between 48 and 72 hours before you leave.
You will give up ease for a smaller amount of reimbursement. With cancel for any reason protection, you can get around 70% of your non-refundable, pre-paid trip costs back without giving a reason. You can sometimes buy this on its own or as an add-on to a more complete insurance.
Comprehensive trip insurance:
When most people think of trip insurance, this is the protection that comes to mind. The all-inclusive insurance typically covers delays, cancellations because of illness or death, lost luggage, and some medical costs for emergencies. Just read the small print to find out what it covers.
Making changes to your trip insurance
Within a certain amount of time after buying the insurance, if you find it does not meet your needs, you can get a full refund (maybe minus a small administrative fee). This gives you time to read the material carefully and make sure it gives you what you need. Most of the time, it takes 10 to 15 days. If you need to make a claim, it is best to know what the insurance covers and how claims work ahead of time, if possible.
When you book a trip that costs a lot, look into insurance at the same time. Some plans require you to buy travel insurance within a certain amount of time after making your first trip payment, like within 10 to 30 days.
Why You Need Travel Insurance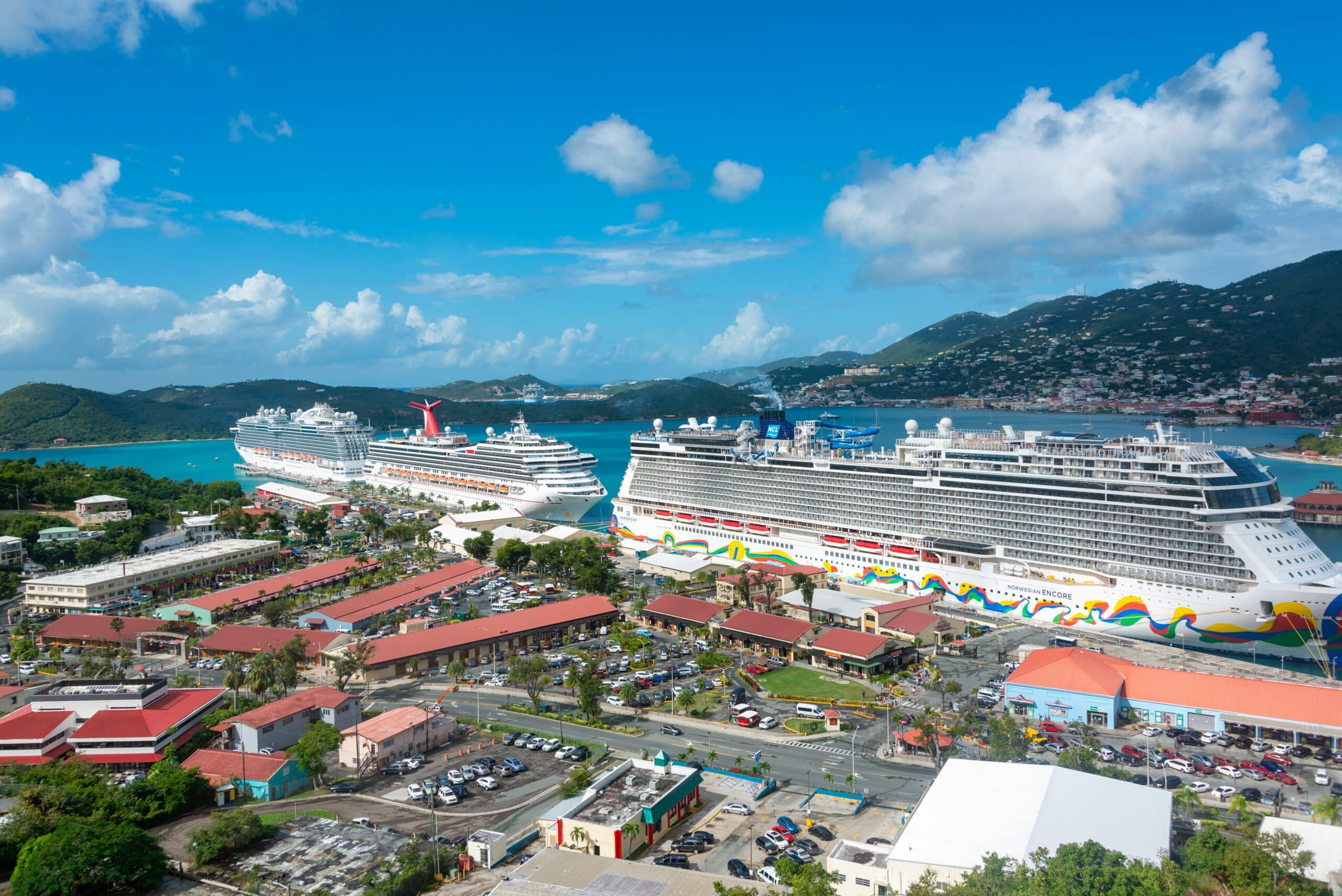 When planning a trip to a faraway place, it can be easy to forget about the risks. But if you do not have insurance, a small problem like getting sick or missing your flight could cost you everything.
If you do not have insurance, it could cost you a lot. So, you should get travel insurance before you book that trip.
Here are some very good reasons to buy trip insurance.
Cancel for any reason rules let you cancel your trip for any reason, even if you have been planning it for a long time. You will get all of your money back if you have to cancel.
Many plans also cover trip interruption, which means that you can get some of the money you spent on your trip back if you have to cut it short for a reason that is covered.
A loss of baggage covering can help you get new things if yours are lost or stolen while you are travelling. This protection is often part of a full-coverage travel insurance policy.
If you get sick or hurt while travelling, travel medical insurance will help you pay for your medical care. You do not want to miss out on this. Most of the time, your home insurance contract may not cover you when you vacation. If you get hurt while travelling, travel medical insurance can help pay for the cost of getting you back home or getting you treated in the country you are visiting. You can get policies that are designed to cover only rare events, or you can get policies that are made for digital nomads that help with everyday care.
If your flight is delayed, cancelled, or you miss it, travel delay insurance can help you pay for the costs. Usually, a trip delay policy will pay for meals, lodging, transportation, and other costs that come up because of the wait. If you miss your flight or your link and do not have travel delay insurance, you may lose the money you paid to book your trips.
We live in a new time when having cover for pandemics is not only smart, but necessary. Health advice changes, which could cause a trip to be cut short. Many countries now require you to have COVID-19 coverage to pay for any costs that might come up if you have to stay longer than planned. It is best to learn ahead of time what you need to travel, and then have a second plan in case something goes wrong.
Travelling can be fun, but you need to be ready for things that could go wrong. A travel insurance package can help you avoid unexpected costs and make your trip more enjoyable.
The best travel insurance will cover everything, from lost luggage to medical problems. Before you buy a policy, make sure to shop around and read the fine print.
1. Hollard Travel Medical Insurance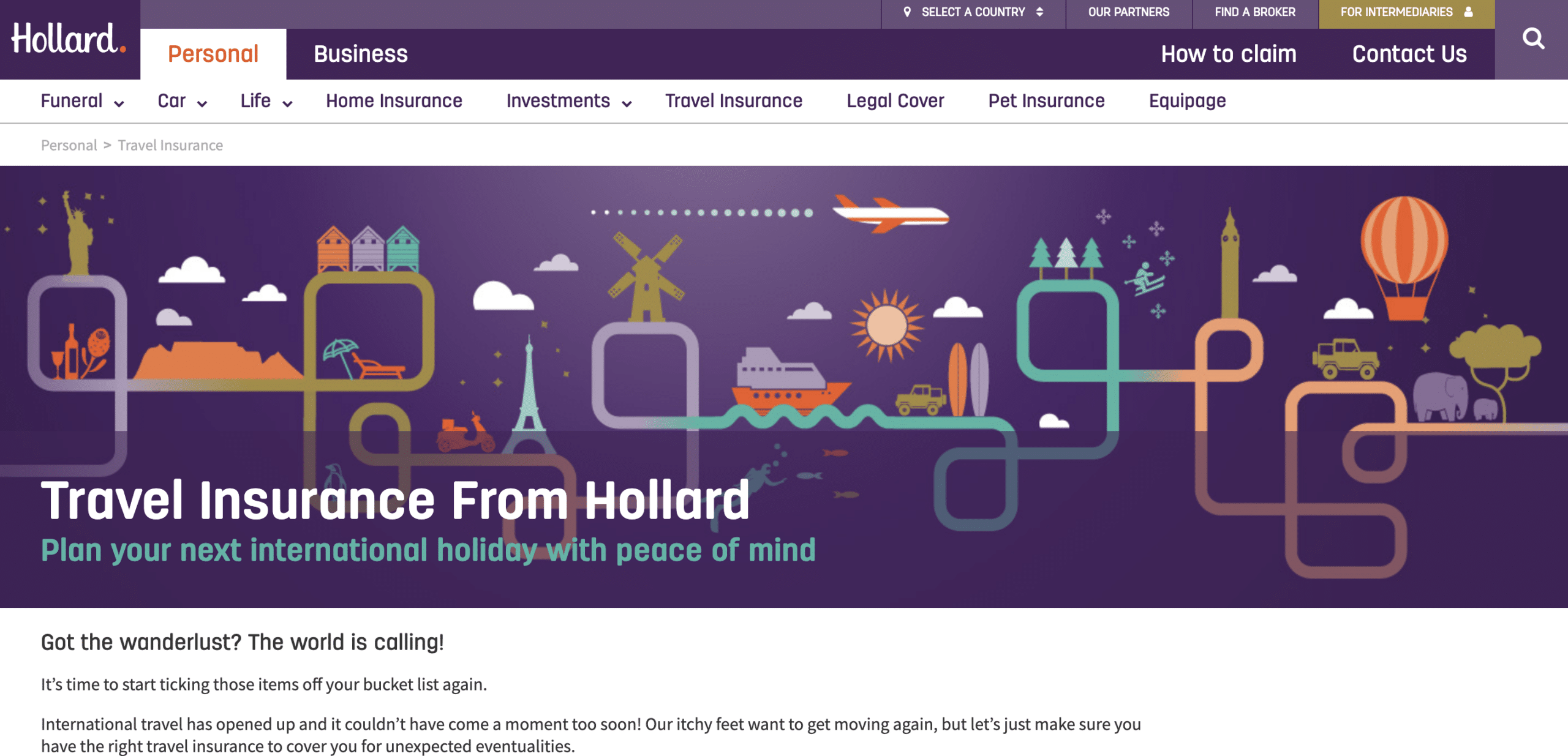 Hollard is large, privately owned local insurer that provides travel medical insurance with the bonus that children are insured for free. The offer group discounts and cover the following:
Any of 31 pre-existing medical conditions.
Over 100 sports and activities
Cruise travel
Medical emergencies
Trip cancellations
Late flights
Missed connections
Theft or damage to belongings
Legal liability
Poor weather
Strikes
Delayed luggage
Accidental death
Permanent disability
Repatriation of mortal remains
Unexpected terrorist attacks
2. ABSA Travel Insurance
ABSA also offers automatic, basic coverage for people who buy plane tickets with their ABSA credit cards. To get full protection, you can order a "top-up" cover that will also cover the following:
Trips up to 184 days long
Hazardous activities
Pre-existing medical conditions
Medical emergencies
Personal accidents
Baggage loss or theft
Legal expenses
Hi-jacking
Wrongful detention
Loss of money
Loss of passport
Clients between the ages of 70 and 74 years can opt for a special package that is even more comprehensive.
3. AIG Travel Insurance
Although AIG is a US-based insurance company, it has been operating in South Africa for about fifty years. They offer several different travel packages of which the most basic ones cover the following:
Trip cancellation
Trip interruption
Baggage loss or delay
Medical emergencies
Pre-existing conditions
Medical evacuations
Car rentals
24-hour assistance
The more expensive Deluxe packages include options like pet insurance, security evacuation and dental emergencies.
4. Standard Bank Travel Insurance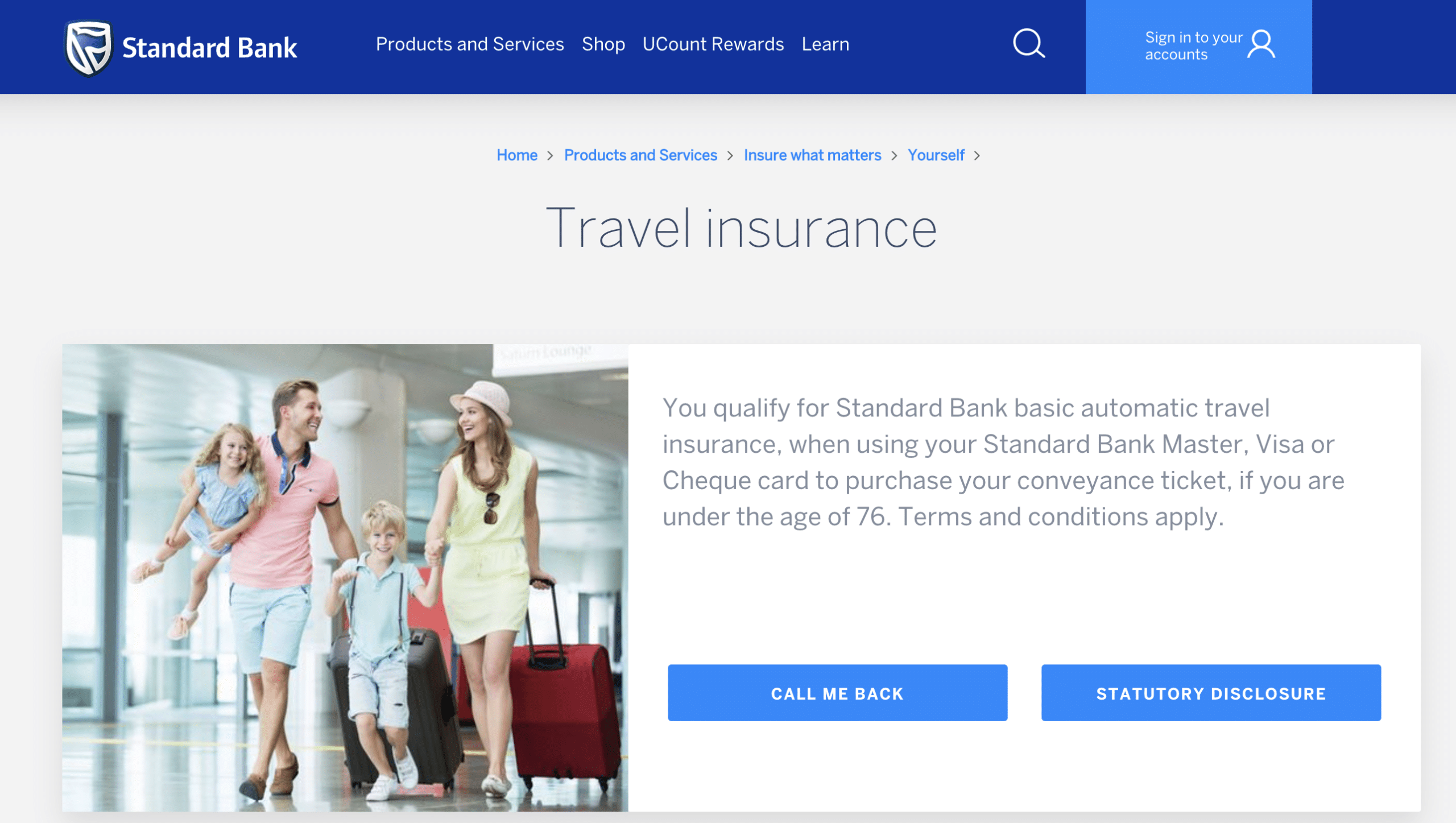 If you have a Standard Bank credit, VISA or cheque card, you will get automatic but limited travel insurance for up to 90 days if you pay your trip with the card. Or, you can buy extra travel medical insurance to enjoy full coverage.
Here's what Standard Bank travel medical insurance will pay out for:
Trips lasting up to 180 days
Pre-existing medical conditions
Medical emergencies, including those caused by acts of terrorism
Death or permanent total disability
Visit by a family member during an emergency
Return of stranded child or travel companion
Hijacking
Baggage delay
Travel delay
Legal fees to third parties

Standard Bank is known that it provides excellent help for a medical emergency or if a client becomes stranded in a foreign country.
5. Allianz Travel Insurance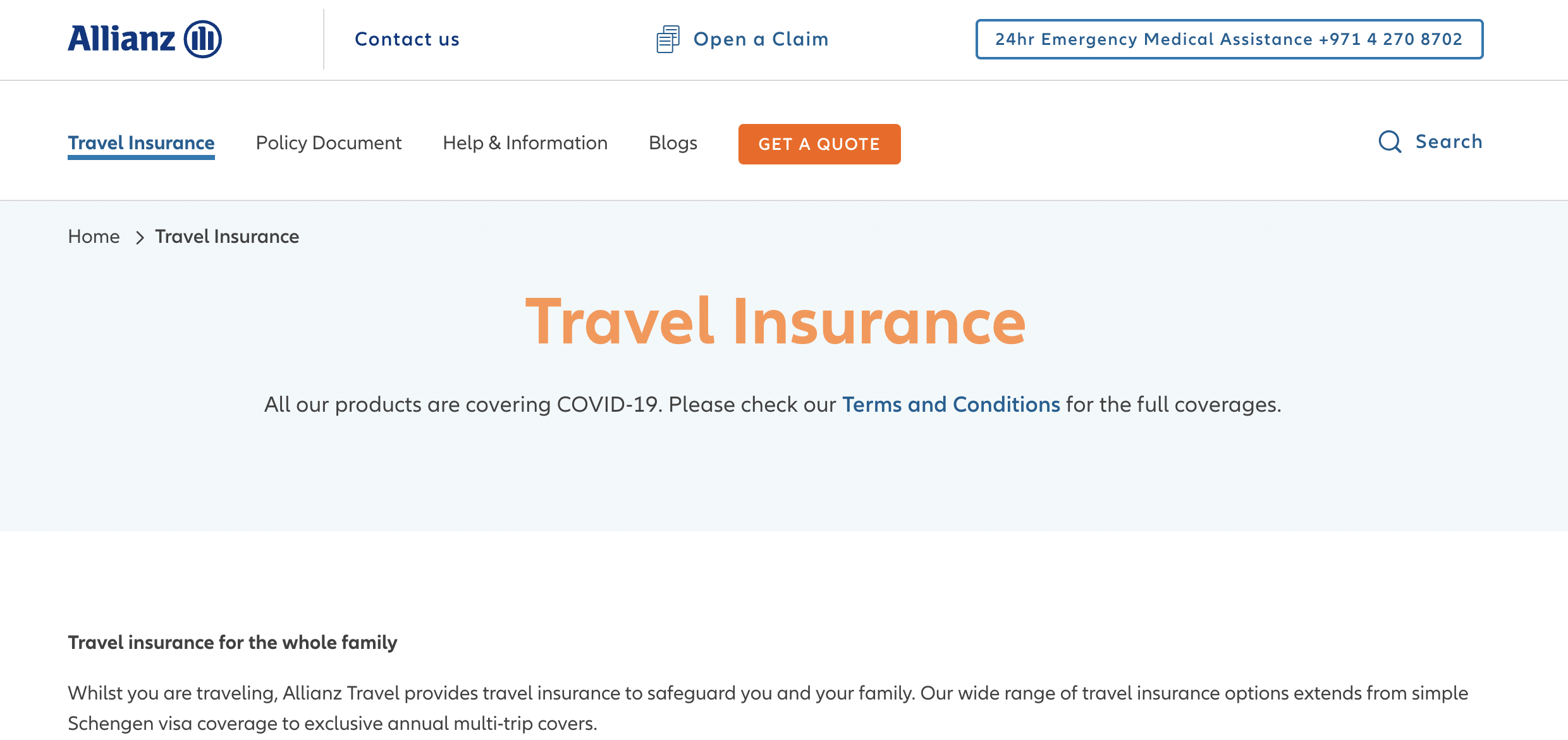 Allianz offers travel medical insurance plus risk consultancy to a clients across many countries. They have a range of unique travel medical insurance policies, including one that is tailored for travellers who want to travel in Europe's Schengen region and one for travellers who will be enjoying winter sports at their destination.
Here's what Allianz Travel Insurance's popular Single Trip Travel Insurance will cover:
Trip cancellations, delay or curtailment
Emergency medical expenses
Emergency medical evacuation
Repatriation of mortal remains
Dental expenses
Hospital cash
Emergency family travel
Loss of personal money
Baggage delay and loss
Valuables
Personal accident or disability
Permanent total disablement
Missed departure
Personal liability
Mugging
The company is known to provide highly comprehensive coverage and specialised insurance packages that are exclusively tailored for unique situations.
READ more about 5 Best Medical Insurance for International Travel in South Africa revealed
Frequently Asked Questions
How much does travel insurance to South Africa cost?
Comprehensive Travel Medical Insurance South Africa can start from about R40 per day.
What is the meaning of travel insurance?
Travel insurance is designed to cover financial losses that could happen while traveling. The risks range from minor problems such as missed airline connections and delayed luggage to more serious issues including injuries or major illnesses.
Why do you need travel insurance?
Travel insurance protects your money if something goes wrong while you are moving or on vacation. It covers a wide range of things, from losing your bags to paying for medical care if you get sick or hurt.
What is included in travel insurance?
Travel Insurance covers different types of risks while travelling like unforeseen medical expenses, lost luggage, flight cancellations, and other losses that a traveller can incur.
Do you get travel insurance when you pay with credit card?
Yes, you get complimentary travel insurance when you pay your travel tickets with a Visa Platinum, Visa Signature, Visa Infinite, Visa Platinum Business and Visa Signature Business premium card.
When should you buy your travel insurance?
In general, you should buy coverage any time before the date your trip starts but it is always best to buy coverage as soon as you make your reservations.
You might also like to read more about the 5 Best Medical Aids for Foreigners Living in SA