5 Best Medical Aid Schemes for Employees
The 5 Best Medical Aids for Employees in South Africa revealed.
We tested them side by side and verified their medical aid plans.
This is a complete guide to the best medical aid for employees in South Africa.
In this in-depth guide you'll learn:
What is a Medical Aid?
How do you find affordable medical aid in South Africa?
What benefits do you get as an employee joining a medical aid?
Does companies cover some of the medical aid premiums?
Can your family be dependents on your medical aid if your company is paying for your medical aid?

So if you're ready to go "all in" with the best medical aid schemes for employees in South Africa, this guide is for you.
Let's dive right in…
Best Medical Aid Schemes for Employees (2023)
| | | | |
| --- | --- | --- | --- |
| 🩺 Medical Aid | ✔️ Offers Plans for Employees? | ⚕️ Plan Offered | 👉 Sign Up |
| 1. Discovery Health | Yes | Discovery KeyCare Plan | 👉 Apply Now |
| 2. Bonitas | Yes | Boncap Student | 👉 Apply Now |
| 3. BestMed | Yes | Network Plans | 👉 Apply Now |
| 4. FedHealth | Yes | flexiFED Savvy | 👉 Apply Now |
| 5. Momentum Medical Aid | Yes | Ingwe Student Option | 👉 Apply Now |
5 Best Medical Aid Schemes for Employees Summary
Introduction to Medical Aid Schemes for Employees
An employee's whole remuneration package is significantly impacted by the availability of medical coverage.
It is likely that the provision of healthcare solutions that are both competitive and cost-effective will be the factor that distinguishes you from other employers in a market in which it is difficult to find and keep competent personnel.
When it comes to finding suitable and expert guidance concerning the provision of healthcare options for your employees, there are several companies to choose from.
It would be best to use a reputable consultant for advice on ongoing healthcare needs or employees in order to facilitate the steady improvement of their health and happiness.
As employee, you can choose not to join if you want to, but that does not mean your workplace will give you more money to cover your monthly fees. But if you care about your health and the health and well-being of your family, you will join a medical aid, either through your work or on your own. It depends on how much you can pay, but at the end of the year, the benefits of medical insurance often beat the costs.
In the truest sense of the word, a company medical aid is a closed plan, and only people who work for the company in question can join. But not every South African company can give its workers limited medical insurance. Sometimes, many companies in the same industry work together to give their employees access to a medical plan that is only available to people in that industry.
Otherwise, your company may let you join an open medical aid and pay a part of your monthly payments. This grant might only apply to certain open medical aids, or your workplace might be flexible enough to let you join any plan you want. The funding is also given to company health plans that can only be joined by people who work for that company or in a certain field.
The grant can be different amounts, and it is up to your company to decide how much they will pay. Some employers will only pay 30%, others will cover 50% of the monthly contributions, and a few very giving companies will pay as much as 66% of the worker's monthly payments. Do not forget that you still have to pay the rest of the monthly fee from your own money.
In light of the fact that medical scheme plans are getting more costly and that service providers are beginning to demand more and higher rates, it further makes financial sense to invest in an insurance product such as gap cover, which fills the coverage gap and ensures that the policyholder does not have to pay for medical expenses out of pocket.
In essence, gap insurance enables you to get financial assistance for the percentage of in-hospital specialist expenditures that are not covered by your primary medical plan.
Through the years, some medical aid schemes have proved themselves as reliable service providers and are preferred by many companies as medical schemes for their employees.
READ more about 5 Affordable Hospital Plans for Farm Workers in South Africa
1. Discovery Medical Scheme
As largest open medical system in South Africa Discovery Health Medical Scheme (DHMS) is preferred by many employers as well as employees.
The Discovery Health Medical Scheme offers more than 20 different health plan options, all of which are suitable for company employees because they include limitless private hospital coverage and a range of perks to suit everybody's requirements and financial situation.
The plans give access to a variety of advantages, care plans, and services that guarantee any employee will receive the best medical care when they need it.
Employees also have the option to enrol in Vitality, its wellness programme, which rewards them for leading a healthy lifestyle by gym memberships and more.
Discovery option plans range from the most comprehensive but expensive private healthcare cover to basic and more affordable plans where employees get cost-effective private healthcare cover through an extensive network of providers.
Discovery Medical Aid option plans suitable for employees include the following
Comprehensive Series
The Comprehensive series of plans provide comprehensive cover for in-hospital and day-to-day cover with extended chronic medicine cover and unlimited Above Threshold Benefit.
Priority Series
The Priority Series of plans offer cost-effective in-hospital cover, essential chronic medicine cover and day-to-day benefits with a limited Above Threshold Benefit, which is ideal for professionals.
Saver Series
The Saver series is economical, provides in-hospital cover, essential chronic medicine cover and day-to-day benefits through a Medical Savings Account. Its premiums are reasonable, therefore affordable for most employees.
Core Series
The Core Series is a value-for-money series of hospital plans that provide unlimited private hospital cover and essential cover for chronic medicine to employees who do not have a big income. The benefits do not include any day-to-day cover.
Smart Series
The Smart Series of plans provide the most cost-effective in-hospital cover, essential chronic medicine cover plus limited day-to-day cover for employees willing to use providers in a specified network.
It is advisable that employees join the Discovery Vitality program to promote health and wellness.
2. Bonitas Medical Aid
Bonitas has been around for close to 40 years, and its team of experts is constantly looking for innovative ways to ensure that members receive affordable, quality healthcare.
Companies and their employees can share in the company's lower prices and reliable service providers to keep you well while containing the cost of healthcare.
Bonitas' extensive selection of plans guarantees that employees and their families will find a perfect match for their unique requirements. The plans are designed to be simple to use while also maximising benefits.
Connecting with consumers is one of Bonitas' strategy pillars since it helps them to be member-centric and committed to serving their best interests. Three distinct polls have rated Bonitas Medical Fund as having a high degree of customer satisfaction and service excellence.
Bonitas is run by a management team with a lot of experience and an independent Board of Trustees made up of professional non-members from the health, legal, financial, and business fields.
Bonitas offers a wide variety of affordable plans, all of them easy to understand and use so that a company's employees can get the most out of their benefits:  
Edge Plans
These plans gives access to day-to-day benefits including unlimited GP consultations, layers of virtual care, dental and optical consultations, a private hospital network and more. Options include the BonStart plan, designed for economically active singles, living in the larger metros, with a drive to succeed and BonStart Plus, designed for young, economically active couples, living in the larger metros, and looking to expand their family.
Traditional Plans
The traditional plans give an overall day-to-day limit with sub-limits for GP and specialist consultations, acute and over-the-counter medicine, X-rays and blood tests and other out-of-hospital medical expenses. Options include a Standard, Standard Select, Primary and Primary Select plan.
This traditional options offers good day-to-day benefits and comprehensive hospital cover, with the Select plans using a network of quality providers to offer modest day-to-day benefits and hospital cover.
Savings Plans
Employees may also like one of Bonitas' Saving plans that give a set amount that you can use however you want for out-of-hospital costs like doctor visits, optometry, and dentistry. They also cover you while you're in the hospital and give you extra benefits for maternity, wellness, and preventative care.
The options are called BonFit Select, BonSave, BonComplete, BonClassic and BonComprehensive
This savings options offer sufficient savings to use for medical expenses and extensive hospital cover, with BonComprehensive being a first-class savings plan that offers ample savings, an above threshold benefit and the best hospital cover.
Hospital Plans
Young healthy employees can also opt for hospital plans, that cover them for emergency and planned procedures in hospital and access to some additional benefits for wellness and preventative care. These options include the Hospital Standard, BonEssential and BonEssential Select plans – the latter using a quality provider network that offers comprehensive hospital benefits and some value-added benefits.
READ more about 5 Affordable Hospital Plans for Domestic Workers in South Africa
3. BestMed Medical Scheme
BestMed provides companies and their employees with access to a network of healthcare specialists, wellness benefits, and cost-effective healthcare coverage options.
All of its options offer significant benefits for preventative healthcare, such as contraception for women, treatment for pneumonia, vaccinations against influenza, and a variety of other options.
With help and backup from this medical aid, employees in South Africa have access to more than 4,300 primary care physicians, as well as networks of hospitals and specialists.
BestMed Medical Aid Option Plans include BestMed Hospital Plans, Network Plans, Savings Plans, and Comprehensive Plans.
Savings Plans
BestMed Savings Plans include extensive hospital cover at private hospitals and a savings account out of which general day-to-day expenses are paid.
The following options are available:
The Network Savings plans are associated with certain Network hospitals and providers.
Comprehensive Plans
BestMed Comprehensive Plans are the most expensive in terms of monthly premiums.
Those who can afford it, may choose from the following:
4. Fedhealth Medical Scheme
Fedhealth has been taking care of the health of South African companies and employees for many years with affordable health care that is also of high quality.
The company is still run by members for members, and provides the following Medical Scheme Option Plans:
maxima EXEC
Although expensive, the maxima EXEC offers comprehensive all-round cover for employees. Apart from in-hospital, chronic medicine, screening and additional benefits, it has a day-to-day savings portion and Threshold benefit.
maxima PLUS
The maxima PLUS option is the ideal choice for all employees because it offers extensive medical cover for every aspect of your healthcare, like generous in-hospital cover, chronic medicine, screening and additional benefits, a day-to-day savings portion, a Threshold benefit, and an optional hospital expense benefit.
This option is quite expensive though.
Fedhealth is also known for an excellent scheme that offers you a hospital only plan, but with the benefit of a day-to-day savings fund that you repay only when you spend them.
READ more about the Bonitas versus Fedhealth compared and revealed
5. Momentum Health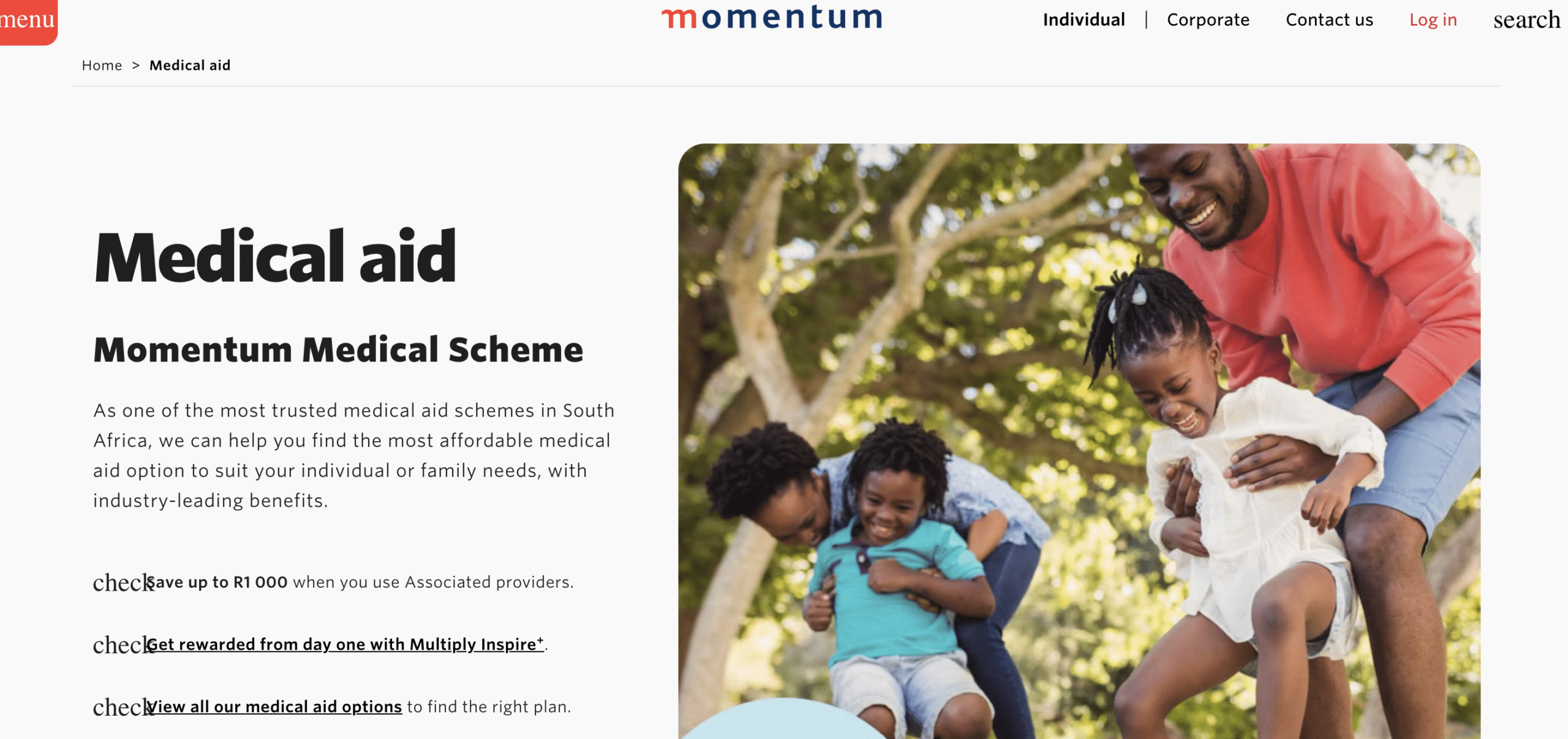 Momentum Medical Scheme is a not-for-profit open medical scheme that operates in compliance with the Medical Schemes Act 131 of 1998, in its most recent updated form.
Momentum is one of the most effective open medical plans in South Africa, and it is managed by one of the largest and most respected healthcare solutions companies in the country.
Companies in South Africa can find a wide range of medical insurance plans and benefits, including 6 medical aid plans from Momentum Medical Scheme perfect for their employees. These plans are:
Evolve Option
The Evolve option gives cover for hospitalisation from the Evolve Network of private hospitals with no overall annual limit.
Employees who choose this option get access to 2 virtual doctors' consultations and any additional day-to-day benefits are subject to HealthSaver+.
Custom Option
The Custom option gives members comprehensive hospital and chronic cover from any or associated providers. They can choose to have access to treatment at any hospital or save further on their contributions by using a specific list of private hospitals.
Incentive Option
The Incentive option is a top option is suitable for anyone who can afford a more expensive monthly premium. With this option members can get extensive hospital and chronic cover from any or associated providers. Their day-to-day expenses will be covered by a medical savings pocket that is being funded by 10% of their monthly contributions
Extender Option
The Extender option is more expensive option gives extensive hospital cover and additional chronic cover from any or associated providers, to those who just need an extra bit of coverage. 25% of their contributions go to a dedicated medical savings account from which any day-to-day expenses are paid. They will get the Extended Cover benefit once they have reached their set Threshold.
Summit Option
With the Summit option employees can get unlimited private hospital cover from any provider. A chronic cover is available for 36 conditions and day-to-day benefits up to a certain amount per beneficiary per year are also covered.
Ingwe Option
The Ingwe option is an entry-level medical cover option is the most affordable and accessible to employees who have just started their first job. They can get treatment from any hospital, the Ingwe Network of private hospitals, or State hospitals.
READ more about the Best Medical Aids for Professionals
Frequently Asked Questions
What is a Medical Aid scheme for employees?
A Medical Aid scheme for employees is a healthcare program that employers offer to employees through which they can access medical coverage and benefits.
Can a company force you to belong to their medical aid?
An employee is obligated to join a medical aid programme if the employer specifies that doing so is a condition of employment in the contract. In the absence of evidence suggesting that an employee may be exposed to settings where they may become unwell, many companies do not put this requirement in the employment contract.
Can employees add their dependents to the Medical Aid scheme?
Yes, employees can usually add their dependents, such as spouses and children, to the Medical Aid scheme for additional coverage.
How are the costs of the Medical Aid scheme shared between the employer and the employee?
Typically, the employer and employee each pay a monthly premium or contribution toward the costs of the medical aid program. Depending on the employer's policy, the specific cost-sharing agreement could change.
What types of healthcare services are covered by Medical Aid schemes for employees?
A variety of healthcare services, such as doctor visits, hospital stays, medication, specialist visits, and some preventative care procedures are often covered by medical aid programs for employees. Depending on the specific plan and its terms and conditions, the scope of coverage may change.